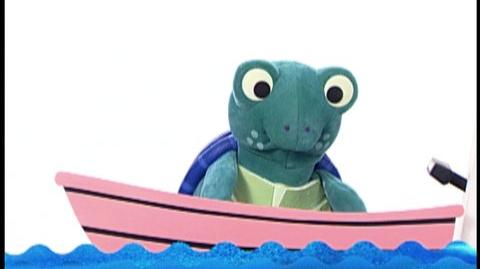 Baby Neptune is a turtle in the Baby Einstein series.   He hosts
Baby Neptune
.
Information
Age: 12
Nickname: Cooper in Tapestry Charter Home of the Titans
Favorite Quote: Wow! What's that?
Freinds:Issac the lion (And others)
Enemies :  Animated crayons & animated shapes
Favorite Color: Turquoise
Favorite Sport: Swimming
Weakness: He listens to blackout by Breathe Carolina
Favorite Cartoon: Total Drama Island
Favourite Kids Show: Boohbah
​Family
Bonker the Turtle (Older Brother Seen In Baby Van Gogh and World of Colors!)
Miss Neptune (Mother)
Charlotte(Rugrats) (Younger Sister)

Dr. Neptune (Father)
Neighton the Horse (Step-father)
Misty the Mouse (step-sister)
Trivia and Goofs
He was puppeteered and voiced by his teacher, Otmar Gutmann.
In November 21 2010, Neptune became paired with Boohbah
Ad blocker interference detected!
Wikia is a free-to-use site that makes money from advertising. We have a modified experience for viewers using ad blockers

Wikia is not accessible if you've made further modifications. Remove the custom ad blocker rule(s) and the page will load as expected.