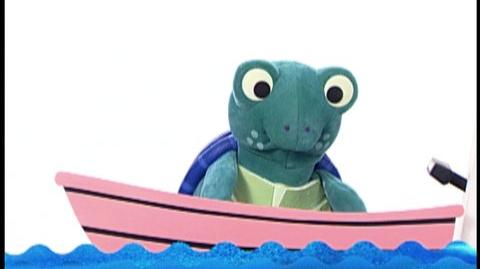 Baby Neptune is a turtle in the Baby Einstein series.   He hosts
Baby Neptune
.
Information
Age: 15
Favorite Quote: Wow! What's that?
Friends: Jumbah(blue boohbah), Issac the lion (And others)
Enemies :  Animated crayons
Favourite Color: Turquoise
Favourite Sport: Swimming
Weakness: He listens to blackout by Breathe Carolina
Favourite Show: Boohbah
​Family
Bonker the Turtle (Older Brother Seen In Baby Van Gogh and World of Colors!)
Brenda Markstein (Mother)
Saturn (Cousin)

Corey Fox (Father)
Trivia and Goofs
He was puppeteered and voiced by his teacher, Otmar Gutmann.
In November 21 2010, Neptune became paired with Jumbah from Boohbah
Ad blocker interference detected!
Wikia is a free-to-use site that makes money from advertising. We have a modified experience for viewers using ad blockers

Wikia is not accessible if you've made further modifications. Remove the custom ad blocker rule(s) and the page will load as expected.