He hosts Baby MacDonald.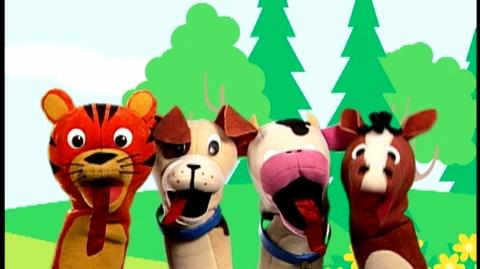 Information
Age: 23
Favorite Quote: You Kids talk on the phone all day. You have NO IDEA about the past. It makes me want to SCCCRRRRRRRRRRRRRREEEEEEEEEEEEEEEEEAAAAAAAAMMMMMMMMMM
Friends: Jane The Monkey, Roary the Lion, Isaac the Lion, Mommy Galileo, Mommy Otter, Horse, Pig 1, Pig 2, Pig 3, Baabra the Sheep, Max the Ram, Rooster, Chicken, Pavlov the Dog, Tooter the Purple Cow, Butterfly, Baby Shakespeare the Lizard, Caterpillar, Star, Crab, Duck, Frog, Misty the Mouse, Theo Van Goat, and Tiger.
Nickname: Moo
Favorite thing: Trying to get revenge on the horse and his pranks!
Favorite Cartoon: Maddie & Friends
Favorite Game: What's In Ned's Head?
Favorite Colors: Black and White
Favorite Sport: Volley Ball
Weakness: Horse's pranks
Enemies, Animated Crayons and Animated Shapes.
Baby Einstein Movie
A Maddie Family Christmas
Cast of "A Maddie Family Christmas"
Maddie
Emma
Big Leo
Abbie
Adam (Curry)
Adam (Childs)
Aviva
Kate
Pierce
Ralph
Roxxanne
Maddie and friends video games
Maddie and the 12 dancing princesses
Logos
MacDonald's `family
His Big Sister: Mary Moo Cow (From Arthur)