Language Nursery is a 28 minute video that was released on January 31, 1997.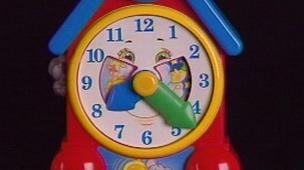 Baby Einstein: Language Nursery
Language Nursery, originally called just Baby Einstein, is a Baby Einstein video released on January 31, 1997, and is the first video in the series. It exposes infants to foreign language with enriching visuals. It was later re-released in October 2004 with some toy replacements.
Cast
Star (On the cover of the 1997-2003 versions).
Einstein The Caterpillar (On the 2003-2007 covers and DVD menus)
Sketches
Stay tuned screen.
Warning screen.
Bear pops out of a jack in a box(English, Hello).
Opening titles. Original theme by William Weisbach.
Fish bowl (zoomed in).
Black, white, & red patterns(German, Abendlied).
Mechanical black & white cow toy works its magic.
Stacking rings. Russian 1-20 with the Fisher-Price Rock-A-Stack replaced in 2004 by wooden stacking rings.
A toy train engine moves forward replaced in 2004 with a new & improved train. Baby Shakespeare Does Have the 2004 Version. Telly Monster also appears in Elmo's World: Pets.
Liquid motion toy(Japanese, Aiueo).
"Some barnyard stairs & a chute" toy(English, Jack & Jill).
Flower patterns(Hebrew, Numi Numi).
Black white and red mobile(German, Lied).
Bear pops out of a jack in the box (Spanish, Hola).
Cardboard bricks(French, 1-20).
Candles lit to a black Russian lullaby. Later replaced in 2004 by a fiber-optic lamp close up.
Doll patterns (Japanese, Nen, Nen, Sleep, Sleep). All dolls except for Raggedy Ann were replaced in 2004.
Train moves again, this time backwards.
Einstein the Caterpillar(Spanish, Hey Diddle Diddle by Oye Mira).
Spiral ball lamp German 1-20
Carousel with dog cat & bunny(French, J'avais I Had). Later replaced in 2004 by a carousel of dogs and balls.
Chain of plastic black white and red shapes(Hebrew, Numi Numi).
Bear pops out of a jack-in-the-box. Hebrew, Shalom.
Foam alphabet blocks are stacked & then knocked over. Hebrew alphabet later replaced in 2004 by wooden blocks.
Patterns. (Spanish, Brilla Brilla) Twinkle Twinkle
Starfish English, Humpty Dumpty.
Mobile zoomed out. (French alphabet)
Musical stuffed lamb later replaced by a different lamb: Oscar the Grouch also appears in Elmo's World: Helping.
Train again moves forward stops moves to right.
Barnyard stair and chute toy again. Little Rooster, Russian, .
Pinwheel. Kinderpreigt, German. Childs Prayer.
Red musical clock English 1-20 later replaced by clock that plays hickorey dickorey dock
Bear pops out of jack-in-the-box. Japanese, Konichiwa. (Good day)
Toy patterns Bo Peep French Little Bo Peep all toys were replaced in 2004 except star jellybeans & string.
Wooden xylophone.
Gyroscope and Spanish alphabet.
Fish bowl far out. Hebrew 1-20.
Train again, moves forward then backward.
Stacking rings again Hebrew Koolam Everyone Clap Hands.
Candles English Twinkle Twinkle.
Black white and red patterns. Japanese, 1-20.
Hand Russian poem.
Bear pops out of jack in the box. French Bonjour Hello.
Green spinning top German alphabet later replaced by different top in Baby Van Gogh a
Windchime Hebrew Laila Tov Yededi Go 2 Sleep later replaced in 2004 by a different windchime.
Metronome with red dot. later replaced by a metronome with a yellow dot.
Rattle Spanish 1-10 later extended for 1-20.
Train with doll in car. English, Little Miss Muffet.
Vegetable pattern replaced by a fruit & vegetable pattern Japanese . The Cherry Blossom Song pepper peas carrots & celery banana peas & apple.
Live cat Russian alphabet.
Duck under hat German Hallo Duck & hat were both replaced( replaced duck was Vivaldi the Mallard in this Discovery Kit) music Matterhorn Jig by William weisbach.
Wellington the Cow Japanese Niji cow later replaced by different
cow named Wellington (Baby MacDonald)
Closing Credits lullaby by William Weisbach w/Aspen saying peekaboo. He Also appears in Baby Shakespeare.
Baby Einstein Kids
Trivia/Goofs
When the Spanish alphabet is being recited one Spanish letter does not appear to be heard, although it is considered not a letter, but a common letter conjugation in Spanish language.
In the 1997 release, the rattle Spanish counting was 1-10. This was later replaced in 2004 by 1-20.
The Playtime Train was later seen in Baby Shakespeare.
The Baby Einstein Caterpillar is based on the Centipede toy, and possibly the Centipede games.
Some toys in this video are later seen in Baby Mozart.
On the 1997-2002 cover there was a star with different colors but when Language Nursery was later re-released in 2004, it was changed to the Baby Einstein Caterpillar, Baby Einstein's current secondary mascot.
This is the only video where the Baby Einstein puppets are absent.
In the 2000 release, the tutorial at the beginning was replaced by an About Baby Einstein montage at the end.
From 2000 to 2002, Baby Einstein put a toy chest in Language Nursery's DVD release as they did many others. This one was short-lived before it transitioned to another short-lived Walt Disney period.
The FHE also proudly displayed their emblem at the beginning of the DVD while they still could.
a Uncut Movie
`
Ad blocker interference detected!
Wikia is a free-to-use site that makes money from advertising. We have a modified experience for viewers using ad blockers

Wikia is not accessible if you've made further modifications. Remove the custom ad blocker rule(s) and the page will load as expected.