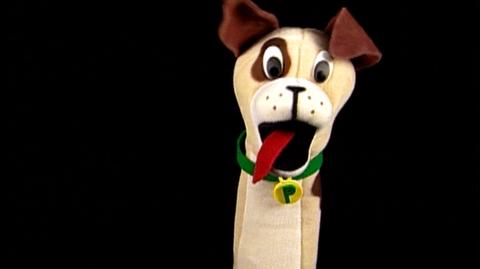 Pavlov is a Baby Einstein character. He hosts Neighborhood animals and appears in Baby Newton, Baby Beethoven, Numbers Nursery, Baby Wordsworth, On The Go, Baby's First Moves, Baby Shakespeare (10 year version), World Music, Baby's first sounds (in cartoon) and Animals Around Me. He also appears on a bonus puppet show from Baby Noah and My First Signs. His friend Pavlet the red dog hosts Baby's Favorite Places. He is friends with Manager the clown And the last but he will appear in the 20 year versions of Baby Bach and baby santa's music box.
NOT least kyle & the dog Ed
Age: 6
Nickname: Fluffy
Favorite quote: can i touch the turtles?
Friends: Manager the clown, Morris the red moose, Rudy the Raindeer, Bard The Green Dragon & Beethoven The Giraffe
Enemies: Animated crayons
Loves: Animals except turtles
Weakness: he says turtles all the time
Favorite color: red
Favorite activity: abc's
Favorite sport: Volley ball
Favorite thing: A bone
Favorite Cartoon: Scooby-Doo Where Are You! 101 Dalmatians: The Series Spot & more!
Favorite game: Candyland
Ad blocker interference detected!
Wikia is a free-to-use site that makes money from advertising. We have a modified experience for viewers using ad blockers

Wikia is not accessible if you've made further modifications. Remove the custom ad blocker rule(s) and the page will load as expected.