The Cow family was a family of cows in baby Einstien.
Betsy The Cow appeared in Baby Shakespeare, Baby Santa, Neighborhood Animals, Numbers Nursery, Baby Galileo. Baby Macdonald, Meet The Orchestra, and hosts the farm segments in Animals around me. She is Macdonald The Calf's mom.
Macdonald The Calf debuted in Baby Bethooven. He also appeared in Numbers Nursery, Baby Galileo, and the special version of Baby Mozart. He is the son of Betsy and Wellington.
Wellington Van Cow debuted in and hosted Baby Macdonald, he also appeared in Baby First Sounds and the Special Version of Language Nursery. He is Macdonald The Calf's dad.
Information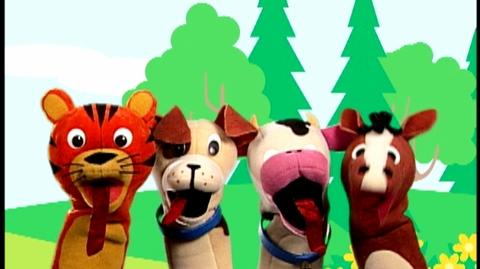 "...he had a red bell collar instead of a blue one and the Baby Beethoven was added." This was sure upsetting for fans of Wellington Van Cow, A few months later, user KYLEEIEIO confirmed that it was false.
Ad blocker interference detected!
Wikia is a free-to-use site that makes money from advertising. We have a modified experience for viewers using ad blockers

Wikia is not accessible if you've made further modifications. Remove the custom ad blocker rule(s) and the page will load as expected.